Photographs © Frieke Janssens "To the End", Project "Smoking Kids"















Frieke Janssens - kontrowersyjna fotografia reklamowa [wideo]
Seria stylowo ubranych dzieciaków palących papierosy obiegła świat, gorsząc lub zachwycając. O tym i innych kreatywnych projektach fotograficznych rozmawiamy z ich autorką
PROFIL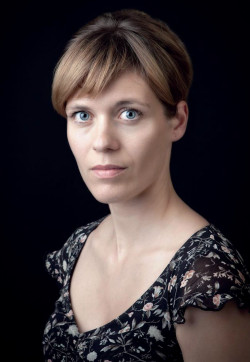 Frieke Janssens
Urodziła się w 1980 r. w Brugii, w Belgii.

Od 2003 r. pracuje jako freelancer.

Realizowała projekty fotograficzne dla wielu firm, organizacji i międzynarodowych agencji, takich jak: DDB, Leo Burnett, TBWA, Saatchi & Saatchi, Mtv Networks, Volkswagen, Red Cross.

Jej prace zdobyły wiele nagród, najważniejsze to:
2008 r. Cannes - shortlista;
2007 r. New York Festival - złoto i brąz;
2006 r. Eurobest - srebro i brąz;
2005 r. New York Festival - złoto;
2005 r. Cannes - shortlista.
Zobacz jej stronę www.frieke.com
N
a co dzień zajmujesz się fotografią reklamową, dlatego chciałam na początku zapytać Cię o pracę przy kampaniach. Wiem, że agencje reklamowe i klienci mają z reguły dość ścisłe wymagania, ale mimo to udaje Ci się przemycić sporo własnych kreatywnych pomysłów...
Zazwyczaj zgłaszają się do mnie klienci, którzy kojarzą moje prace i lubią mój styl. Z pewnością muszę zawsze trochę powalczyć o swoje, bo działy kreacji lubią mieć czasem pełną kontrolę nad sytuacją.
Najlepiej pracowało mi się oczywiście przy tych kampaniach, przy których miałam dobry kontakt z dyrektorem artystycznym i dawał mi dużo wolności.
Którą kampanię wspominasz najlepiej?
Na pewno pracę dla Vlaams Energie Agentschap, przy kampanii edukacyjnej promującej oszczędzanie energii. Zrobiłam trzy portrety ludzi, którzy na różne dziwne sposoby starają się ogrzać. Jeden z nich przedstawiał mężczyznę z kotem na głowie. Bardzo podobało mi się, że mogłam pozwolić sobie przy tym zleceniu na realizację wszystkiego, co mi wpadło do głowy - opowiedziałam o moich pomysłach agencji i dostałam wolną rękę.
Utrzymać kota na głowie pewnie nie było łatwo!
Dlatego zrobiłam tylko kilka ujęć. Nie było tak trudno, ale nie obeszło się bez postprodukcji. Musiałam dodać ogon z innego zdjęcia. Ale kot, który siedział na głowie, był prawdziwy! To miał być portret amerykańskiego trapera z długą brodą i w czapce z szopa pracza. Nie chciałam korzystać z żadnych futer, zwłaszcza, że chwilę wcześniej pracowałam przy kampanii społecznej na rzecz praw zwierząt z udziałem Jeana Claude'a Van Damme'a. Na plakacie trzymał martwą norkę, którą oczywiście dodaliśmy w postprodukcji - żadne zwierzęta nie ucierpiały na planie. Przyszło mi do głowy, że zamiast futrzanej czapki, mogę posadzić komuś na głowie żywego kota. Przy okazji pomogło mi to stworzyć coś niebanalnego.